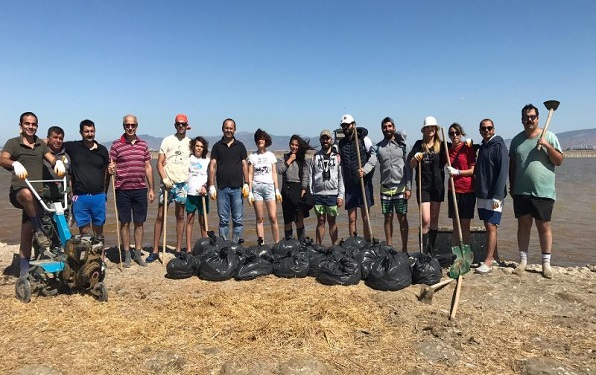 Bird Sanctuary Has Been Cleaned For Flamingos On 21 September World Cleanup Day
In cooperation with Ege University (EU) Environmental Problems Application and Research Center (ÇEVMER) and EU Science Faculty Biology Department, a cleaning activity was carried out in İzmir Bird Sanctuary Flamingo Island as part of the "World Cleanup Day". ÇEVMER Director Prof. Dr. Dinçer Ayaz, EÜ Faculty of Science, Biology Department Lecturer Assoc. Dr. Ortaç Onmuş, volunteers and students participated.
In cleaning work; Various items such as plastic bottle caps, bags and cigarette butts that seagulls and winds carried to the island were collected. Speaking at the event, ÇEVMER Director Prof. Dr. Dinçer Ayaz said, "One of the most interesting wastes that emerged during the cleaning work was a drug ampoule. This showed that the pollution did not remain in place and unfortunately had a negative impact on the nature. The discovery of medicine bottles was an important observation and determination that medical and hazardous wastes were mixed with nature. The need for our people to be more careful and conscious about these issues has emerged. For this reason, we came to the conclusion that all our educational institutions should work on this issue frequently."
After the cleaning work on the island, which hosts 30 percent of the flamingo population in Europe, an anchor was made so that the flamingos can nest in their new breeding season. İzmir Bird Sanctuary Flamingo Island has been made suitable for nesting with the work done.